Reina is a successful graphic artist that locks out the world and hides in her work. The two things she loves most are her best friend and coffee. She's comfortable in her personal space, and the last thing she's prepared for is a man that tears down her walls and pushes her boundaries. Can she emotionally handle the intensity James brings to her life?
James is a successful actor. He can have anyone he wants, until he meets Reina. She fires all of his dominating instincts, and her walls hide a need for submission that she isn't aware of. He's determined to make her his, but getting past her defenses could be an entirely different matter.
Reina is guarded & doesn't easily show her feelings. This is a slow seduction, not an insta-love book. The farther you go in the series, the more intense the sex & situations become.
The first step to submission is emotional surrender. Can he coax her into willing surrender, or will fear and insecurities get in the way?
See how their adventure unfolds! Part 2 is now available "Willing Sacrifice"
This is a complete standalone story.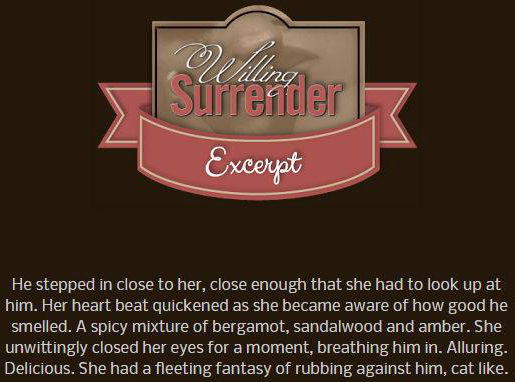 *A quick note from the author. In this first book my writing skills were a bit rusty. The story is good, but the writing style was a work in progress. It is a world away from the style & content of books 2 & 3 so I hope you will give them a try. I hope to re-work this one at some point, but for now the story continues! Thank you so much.
*Contains an alpha male, explicit sex, light bondage, witty banter, lifelong friendships & plenty of coffee!